Domestic Enemy: Poisoning and Resistance to the Slave Order in the 19th Century French Antilles
Palabras clave:
Right of Resistance, Colonialism, Poisoning, Extraordinary Penal Jurisdiction
Resumen
This article wishes to contribute to the study of disobedience rights, by analyzing instances of resistance against slavery in the French Antilles during the Restoration period. This period was the backdrop for quite a number of significant slave revolts; not just in the French colonies, but also the English and the Spanish ones, such as Jamaica, Cuba, the Barbados islands or the Bermudas. The uprisings occurred coincidentally during a phase of French history that witnessed a booming slave trade, although it had been formally abolished following the congress of Vienna.
Fecha envío / Submission date:2/12/2012
Fecha de aceptación / Acceptance date: 18/02/2013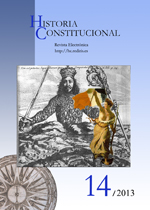 Descargas
Sección
Hispanoamérica y las Antillas Francesas
Licencia
Los autores que publican en "Historia Constitucional" ceden a la revista el derecho de primera publicación, así como la facultad de explotar y usar el texto para ulteriores publicaciones.
Los autores deberán comunicar a la revista ulteriores publicaciones de su texto.